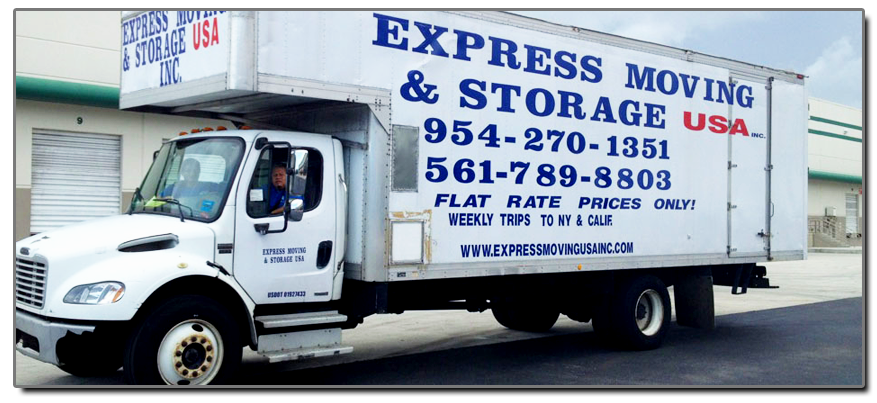 Guaranteed Pick-Up & Delivery Time.
Experienced, Professional Drivers.
Full Service Storage Facilities.
Expert Packing & Crating
Let Us Do All the Work!

"The experience I had with Express Moving was very good. They were more courteous and well-mannered than the moving company I hired for my last move. When they got to my new home, they wiped their feet when entering so as not to spread dirt and mud onto my brand new rugs"

"Your men surpassed their mission. They exceeded my expectations in every way. I have used many Moving Company in my life and Express is hands-down the best."

Katherine
Boca Raton, FL.
"The young men who moved me were absolutely superb! They were respectful, courteous and professional. My move was as pain-free as possible. Shlomi from Express even called me afterward to make sure everything was to my liking."

"I went through a contentious divorce recently. My ex-wife was awarded the house. We had to split all the furnishings 50/50. Express moving walked into the middle of a contentious situation and professionally removed all of my belongings from the house while my wife stood at the door counting and inspecting every box, every wrapping and every item to make sure that there was nothing the she was awarded. This slowed down the process tremendously and while they billed me for the extra time, their crew was as patient as I had ever seen anyone be."

G. Goldman
Boca Raton, FL.
"With my previous move, I was so dissatisfied with the company I chose. They charged me more than they said they would and damaged many of my goods. This time I was completely satisfied with Express Moving, they really know their business."

Clarice Cohen
Palm Beach, FL.
"I needed to move family from Tampa to Boca Raton on very short notice. A friend referered me to Express. Within 48 hours my furniture other belongings were delivered to our new home in Palm Beach trouble free and without breakage or fuss. Shlomi from Express really came through for me and my family. They even setup and assembled the furniture as agreed."

Harold
Deerfield Beach, FL.
"I needed to move my elderly father from his own home to mine in Boca Raton. Some things needed to go into storage, some things needed to be moved to my house and some things needed to be discarded. They gave my one low price and did exactly what I instructed them to do. The Quote itemized what charge was for what and when it would be done. They are super professional and they really delivered."

C. Friedman
Boca Raton, FL.
"My mother recently passed away. She had an entire house full of keepsakes and antiques that were very valuable. I needed a trustworthy mover that could box and delicately ship a house full of valuables to an estate buyer without breaking anything. Even the estate buyer was amazed at the quality of the move. They told me everything was clearly labelled and nothing was broken."